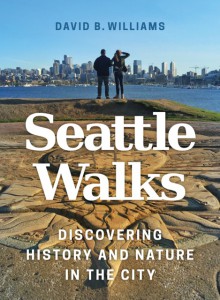 Go to my Walks & Talks page for info on upcoming events.
My goal was to write a book with walks that help people notice details they have perpetually walked by, as well as pull together disparate observations that reveal larger stories. The walks take people to new spots and by old favorites, lead to panoramas and intimate hideaways, and go on trail and sidewalk. They will appeal to newcomers and long time residents. They will be fun. By taking these tours, I hope that readers will see Seattle in a new light and acquire a new appreciation of how the city has changed through time, how the past influences the present, and how nature is all around us, even in the urban landscape.
If you want to order the book directly from me, please send me a note, via my Contact page. Cost with shipping, taxes, autograph, etc. is $24.
A very nice review, from the Seattle Times (2/23/2017).
Walk 1 – Seattle's Historic Shoreline: Remnants from the Past
Walk 2 – Denny Hill: The Big Hill that Went Away
Walk 3 – Stories in Stone: Downtown Rocks (Updated map and description)
Walk 4 – Where You At?: A Downtown Geographical Tour
Walk 5 – Who's Watching You?: A Downtown Menagerie in Stone and Terra-Cotta
Walk 6 – Regrades and the International District: Shaping a Landscape of Diversity
Walk 7 – Madison Street: Elliott Bay to Lake Washington
Walk 8 – Lake Union: Circumnavigate the Center of the City
Walk 9 – The Hiram M. Chittenden Locks and Discovery Park: Boats, Birds, and Big Trees
Walk 10 – Green Lake to Lake Washington: Tracing a Historic Creek
Walk 11 – Meadowbrook Pond and Thornton Creek: Restoration and Renewal
Walk 12 – Magnuson Park: The Land Comes Full Circle
Walk 13 – Capitol Hill: Elegance in the Details
Walk 14 – Beacon Hill: Great Diversity and Great Views
Walk 15 – Rainier Beach to Columbia City: From Slough to Slough
Walk 16 – Delridge and Pigeon Point: The Lesser-Known Side of West Seattle
Walk 17 – West Seattle: Old Growth and Alki Point