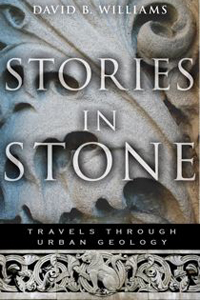 Published by Walker & Company
I am excited to announce that the UW Press will republish Stories in Stone in paperback in  fall 2019.
Buy the book direct from me for $17.50, which includes shipping. I will even toss in my autograph for free. Just email me and let me know. Thanks. Contact page.
In this age of concrete and titanium, it may seem anachronistic to look at building stone. But for centuries, stone was the material of choice, and it is still the chosen material for this country's most elegant structures. Reasonably fireproof, infinitely colored, and often readily available, stone allows for larger buildings than wood and, with a few notable exceptions, retains its structural integrity for thousands of years. Knowing that a building's success or failure often rests on the choice of stone, architects and builders continue to comb the globe, from the fjords of Scandinavia to the deserts of South Africa, searching for the perfect rock for their structures.
Why is stone so bewitching? Well, for one, it's alive—a living, breathing material that changes gracefully over time. Second, it is natural—people may not know the stone's origins but they intuitively sense the link between stone and the world around them. And third, no two stones are exactly alike, every structure has a unique look, feel, and story.
But there's more to it than that. Within every stone structure is a story of geological origins that goes back to our earth's creation. As a self-described geo-geek, I pride myself on being able to unlock these stories.
In Stories in Stone, I braided together natural and cultural history to explore the untold life of building stone. The project grew out of my 20-year passion for geology and desire to strengthen my bonds to nature. Each chapter focuses on a particular type of rock and describe my search to learn more about the stone, the particular building or building style that exemplifies its use, and the people involved in construction. Along the way I interviewed geologists, explored quarries, and consulted with preservationists and historians in order to give readers greater insight into these structures.
By telling the stories of stone from formation to foundation, I tried to open a new window for viewing the urban landscape. I wanted to show that intriguing natural and cultural history stories are no further than the nearest building. I hope that Stories in Stone will encourage people to look more carefully at the natural world around them, ask more questions, and go outside and investigate.
In fall 2010, Stories in Stone was named a finalist for the 2010 Washington State Book Award in the general non-fiction category. I think that's pretty cool and I am honored to be in such august company with the other finalists and winner.
"We live in the Stone Age. In this delightful book David Williams points out that one needn't travel to wild places such as Yosemite or the Grand Canyon to geology—geology is in our cities in the stones used to construct our homes, schools, government buildings, and other other structures…I enjoyed this book both time when I read it."
~ Journal of Geoscience Education — 2013

"I admire the cleverness of Williams's device, but it would have failed were he not such a fine storyteller…His explanation of why Carrara marble proved to be an unfortunate choice for cladding Standard Oil's Chicago headquarters is unusually clear and yet lyrical. What else would you expect from a science observer who includes a visit to Robinson Jeffers's (granite) Hawk Tower in his book on rocks?"
~ American Scientist — January/February 2010
"Author David B. Williams makes a compelling case to look closer at a building's very stones…Although Williams does an admirable job of explaining where to find the stones and how they formed, the book really shines when he talks about the human connections—how the stone is quarried by people and added to buildings under conditions that reflect unique historical circumstances."
~ Earth – October 2009
"Cities may seem like the most artificial places on Earth, yet a close look at massive buildings can reveal troves of natural geological glory. In chapter after fascinating chapter of Stories in Stone, Williams…deftly describes the mineralogy and history of some of the world's most common building materials…[T]his book reveals that natural and cultural history may lie no farther than the building next door."
~ Science News – September 26, 2009
"Geologist Williams takes the study of "urban nature" in a new and pleasurable direction by conducting a geological survey of the stones used in city buildings…From stony metaphors to the sculptures of Michelangelo, architectural breakthroughs, and geology's role in the evolution debates, Williams' record of human dreams worked in stone is as richly textured and full of life's imprints as a fossil-rich piece of travertine, the stone used on the facade of the magnificent Getty Center in Los Angeles."
~ Booklist – July 1, 2009
"The book is filled with terrific information, and a whole new way to look at a city, and the world. … The book, altogether, is truly brilliant — as idea, and execution."
~ William Wallace
Barbara Murphy Bryant Distinguished Professor of Art History
Washington University
"Stone buildings are symbols of urban denaturation, but in this engaging popgeology excavation, Williams sees them as biological entities. … While telling these sagas, the author investigates the science of rock dating and techniques of quarrying, recounts the exploits of great geologists and the travails Michelangelo faced in transporting marble blocks from the quarry to his workshop, and ponders the often surprising structural and aesthetic character of different species of stone. (The coquina stone of St. Augustine's fortress is material for stopping cannonballs, even though it's as fragile as a Rice Krispies Treat.) Williams's lively mixture of hard science and piquant lore is sure to fire readers' curiosity about the built environment around us."
~ Publishers Weekly – May 3, 2009
"Stone speaks volumes with great beauty, the author avers. Having studied geology in college, Williams spent some years in the rapturous geologic landscape of Utah before moving to Boston. He was starved for his geologic fix until he realized that he was surrounded by stone. With giddy infectiousness, he launches into the cultural geology of various rock types. … He does a yeoman's job linking Robinson Jeffers' love of stone to his poetry—its strong, supple metaphorical associations, its lasting value. … Each line of inquiry coaxes out some expressive scientific, emotional or philosophical nugget from a piece of travertine, slate or, in one Pop Art extravaganza, a gas station made of petrified wood. Makes stone sing."
~ Kirkus Reviews- May 1, 2009