What? More problems with Bertha and her subterranean homesick blues? Yesterday, we learned that a shell deposit had been found in Bertha's repair hole. At present, the archaeologists working the site don't know if its archaeological or geological. Both are a distinct possibility and could even be interfingered.
Part of the problem is that the waterfront was such a dynamic environment. The Native people of the region used it for hundreds to thousands of years and could have left a huge variety of materials behind. An archaeologist I know who studies middens told me once that she had found anything from bones to fecal matter to tools to building materials to you name it in middens around Puget Sound. When European setters arrived, they did the same thing, that is they used the waterfront for a wide variety of reasons, which led to a whole lot of material getting dumped down along the shoreline. And then there's the constant tide action, which could have reworked and moved around the human deposits, as well as any geological material, such as the shells reported to be in the hole.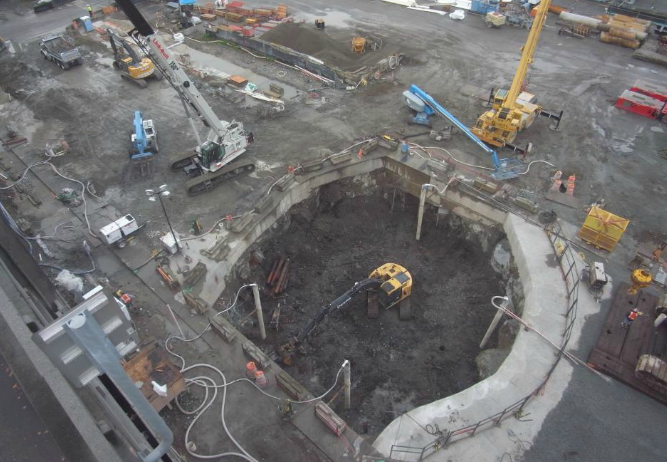 As Knute Berger writes in his Crosscut piece, the dig will be stopped until archaeologists can figure out what's down there. They don't expect to find anything truly exciting, or what Berger calls a "Pioneer Pompeii," but they know that the potential for Native remains and artifacts does exist. Curiously, they did not expect to find anything at this point. Their earlier test drilling had revealed little, though they did find material from Ballast Island. That's one of the problems with test holes, they don't tell the whole story as well as a full excavation.
No matter what happens, Bertha is helping to reveal the complexities of our city and how we have altered its face over time. I suspect that she will continue to provide us with more stories in the months to come, whether WSDOT likes it or not. At least they are looking for them.