One of the most unusual building stones in Seattle is the Lyons Sandstone. I know of only one building built with it. That building is now known as the Interurban but began life as the Seattle National Bank. The new name came about sometime after 1902 when the Tacoma Interurban railway terminated in front of the building. Running from Tacoma via Green Valley and with an off shoot to Renton, the Tacoma Interurban ran from 1902 to 1928.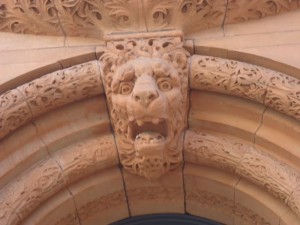 English-native John Parkinson designed the building in 1890-1892. He later moved to Los Angeles where he is much better known, especially for the Los Angeles Coliseum and City Hall. In Seattle, he also designed the Butler Block, sadly most of which was removed; the upper brick clad stories have now been replaced with a rather banal garage. At the least the handsome granite base remains.
The classic Romanesque Revival building is a delightful ediface. At the base is the local Chuckanut Sandstone, a gray sandstone. Sitting atop it is the Lyons Sandstone, quarried at the Kenmuir Quarry in Manitou Springs and shipped by rail to Seattle. I have not been able to determine why Parkinson chose the Lyons rock, though it clearly contrasts well with the Chuckanut and complements the brick that makes up the remaining part of the building. The Lyons was deposited as sand dunes during the Permian Period around 280 million years ago. Outcrops of the rock, which often appear as massive hogbacks, occur along the Front Range of Colorado, including such famous areas as Red Rocks Amphitheater and Garden of the Gods. Minute quantities of oxidized hematite (that is rusted) give the Lyons its red color.
Lyons Sandstone was the most commonly used sandstone building stone quarried in Colorado. Quarries opened in the 1870s and continued in Manitou until the 1910s, and still takes place in Lyons, where descendents own the quarries opened by their relatives in 1873.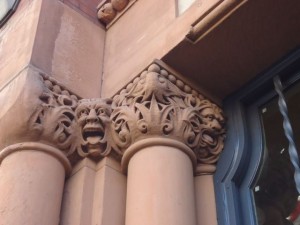 What makes the Interurban particularly charming are the elaborate carvings. The most obvious is the lion overlooking the entrance at the corner of Occidental and Yesler. More intriguing figures are found in two additional locations. To the east on Yesler is another entrance, where you can find grotesques on the columns. (There is some debate about the origin of the term grotesque, but many trace it to paintings in Roman grottoes.) These curious faces were a commonly used architectural feature, often adding a sense to a whimsy to stately structures. Another grotesque peaks out from carved foliage on the southwestern side of the building. It's about 20 feet above ground level.
These are not the only grotesques in Seattle. I know of one building that has 78 carved in its sandstone. Do you know it? There is also another curious feature on the Interurban. Do you know it?