I have read in a variety of books, articles, and web sites that one of the earlier signs of the presence of Japanese in Seattle was the street name "Mikado Street." The reference, I believe, is to Augustus Koch's 1891 Bird's Eye View of Seattle, which includes the street on it. Below is the map and here's a typical line about the street. "Their [Japanese] influence can be seen all the way back to the late 1800s, when Dearborn Street was named Mikado Street."
Although this sounds credible, I don't think it is correct to attribute the name to the presence of Japanese in Seattle. Mikado Street was named in 1886 as part of what is known as Terry's Fifth Addition to the City of Seattle. Terry refers to Charles Terry, one of the Denny Party, or founding families of Seattle. He had owned large sections of Seattle, which his descendants later platted. This particular plat of Terry's estate was planned by Erasmus M. Smithers (what a wonderful name) and Franklin Matthias.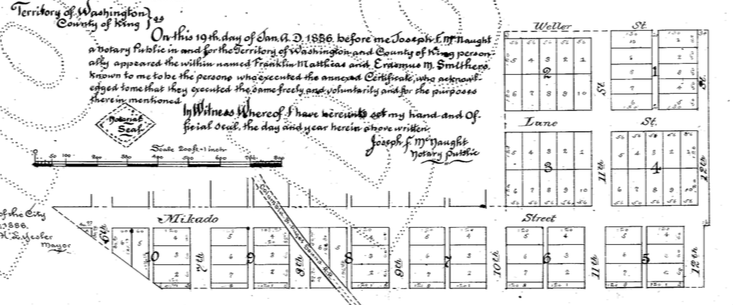 Within the legal description of the plat, Smithers and Matthias describe that all of the streets but one are prolongations of preexisting streets. Only Mikado is new. Nowhere do they state the origin of Mikado. This was typical, that the people planning the plat would either continue preexisting streets or come up with names for the new ones.
The main reason I think that Smithers and Matthias didn't choose Mikado for its connections to Japanese immigrants into Seattle is that there were fewer than a dozen Japanese living in Seattle in January 1886 (Issei: A History of Japanese Immigrants in North America). Plus, I cannot find any connection between Japan and Smithers and Matthias.
But 1885 was the year that Gilbert and Sullivan's opera The Mikado debuted in London. It quickly became hugely popular. H.L. Mencken later wrote that by the end of 1885, 150 companies had performed the show. In December 1885, the Seattle P-I reported on the "Mikado craze," with Mikado rooms being built in Manhattan mansions. Perhaps more relevant to Seattle's story, on January 8 (10 days before Smithers and Matthias filed the plat), The Mikado opened at Frye's Opera House in Seattle.
Of course, this is circumstantial evidence but it does seem more likely that Smithers and Matthias chose Mikado for the popularity of the opera than for an acknowledgment or honoring of the Japanese in Seattle. If anyone has other  ideas, I would be happy to hear them.
In 1895, the city of Seattle changed Mikado Street to Dearborn Street. Section 276 of Ordinance 4044 (which changed more than one hundred street names) states: "That the names of Alaska Street, Mikado Street, Modjeska Street, Cullen Street, Florence Street and Duke Street from Elliott Bay to Lake Washington, be and the same are hereby changed to Dearborn Street."