I recently came across this fine cartoon in a short lived magazine. Started in 1907 and published by the AYP Publishing Co, The Seattle Spirit Magazine: A Seattle Publication for Seattle People was created to promote Seattle and the Alaska Yukon Pacific Exposition. It was filled with bad poetry, songs, and jokes; photographs of the city; and articles detailing the city's many assets.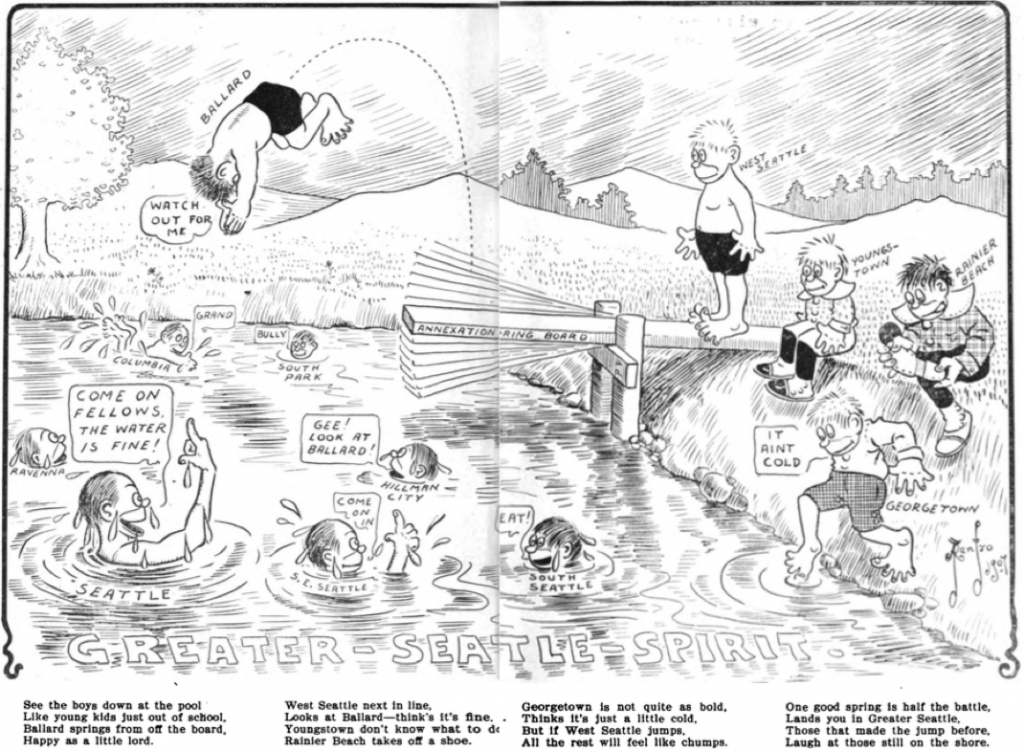 The image above refers to Seattle's early growth, particularly the city's aggressive acquisition/annexation of its surrounding towns, including Ravenna, Ballard, and Columbia City. Sometimes it's hard to remember that what we now consider to be neighborhoods started life as towns often developed by an ambitious individual or two. Not all of the towns—Ballard exemplifies this trend—wanted to be annexed but there was little they could do as Seattle grew and prospered.
Although 1907 was the biggest year for annexation, the movement continued for decades and still goes on. My pal Valarie Bunn has a thoughtful post on why it took so long to annex her Wedgwood neighborhood. And the Seattle Times's Daniel Beekman addresses the most recent fight over a city considering the positives and negatives of being sucked into Seattle.