Recently I came across an unusual map of Seattle–Frank McCaffrey's New Dogwood Map of Seattle, published in 1931. The map is a cartoon-style with curious depictions of monuments and locations in the city. Plus, east is at the top of the map. I am guessing that McCaffrey wanted to create a horizontal map but was dealing with a vertical, or at least north-south trending, city.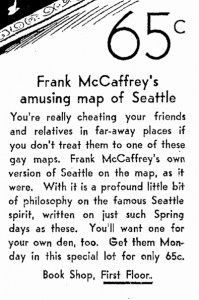 Frank McCaffrey was long time publisher/printer in Seattle, who owned Dogwood Press. His obituary in the Seattle Times (May 15, 1985) noted, "'Business has too long been hamstrung by stupid politicians and their mismanagement of the people's interests,' McCaffrey asserted in a campaign attack against politicians during his unsuccessful 1936 mayoral bid. But he was undaunted by his loss at the polls. He again ran an unsuccessful campaign for mayor in 1946, and failed to win a county commissioner's seat in 1944 and City Council seats in 1948 and 1961."
If you are interested in seeing the entire map, copies are available at the University of Washington's Special Collections and in the Seattle Room at the downtown branch of Seattle Public Library.